MX (Melbourne) January 31st 2013
Lance Armstrong 'comes clean' in Oprah Winfrey interview to doping past
Cyclist apparently disarmed US presenter with his candour and willingness to confess in two-and-a-half-hour recording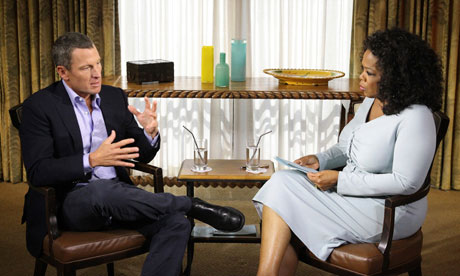 After years of furious denials and a policy of omerta that kept the lid on a sophisticated cheating conspiracy for more than a decade, Lance Armstrong has finally admitted his doping past in a televised interview with Oprah Winfrey, according to the US presenter.
The cyclist, stripped of seven Tour de France titles after a United States Anti-Doping Agency (Usada) report placed him at the heart of the "most sophisticated, professional and successful doping programme sport has ever seen", apparently disarmed Winfrey with his candour and his willingness to confess.
"He did not come clean in the manner I expected. I was surprised," Winfrey told CBS after she had recorded the two-and-a-half-hour interview and flown from Austin, Texas to Chicago with the tapes in her bag alongside her "dog food and dog leashes".
There had been fears that Winfrey, who has known Armstrong for a long time and interviewed him several times, would give the Texan an easy ride. But she insisted she had been fully prepared and had drawn up 112 questions, having carefully read Usada's 202-page judgment and the books of the Sunday Times journalist David Walsh, who has pursued Armstrong for more than a decade.
"There were a couple of times when he was emotional but emotional doesn't begin to describe the intensity or difficulty he experienced in talking about some of these things," said Winfrey, for whom the interview is a coup as she tries to establish her Oprah Winfrey Network channel.
"For myself, my team, we were mesmerised and riveted by some of his answers," said Winfrey, who conducted the interview in a sparse hotel room after the intended location at Armstrong's house was besieged by news crews.
She said it was "certainly the biggest interview I've ever done in terms of its exposure".
The presenter, who claimed the material was so good that it would now be broadcast over two days rather than one from Thursday night in the US, said Armstrong was also well prepared. "Most of the important questions that many people around the world wanted to hear were answered. I was satisfied with the answers," she said. "I thought he was thoughtful, he was serious. He had certainly prepared himself for this moment. He met the moment. At the end of this, we were both pretty exhausted."
Winfrey's promotion took place as more details emerged of Armstrong's strategy to mitigate the fallout from a lifetime ban that has excluded him not only from cycling but from all sport worldwide.
The Usada chief executive, Travis Tygart, told the Guardian last month that one of his greatest regrets was that Armstrong did not come clean when he had the chance, while its investigation was under way. Instead, he refused to co-operate and his lawyers attacked Usada. The Wall Street Journal reported that he met Tygart in December to explore whether his ban could be reduced if he testified against others, allowing him to compete in elite triathlon events. But, according to the paper, the meeting ended with a frustrated Armstrong firing an expletive at Tygart and storming off. He later met Winfrey in Hawaii, where they both have houses, over the Christmas holidays to finalise the terms of their interview.
The World Anti-Doping Agency (Wada), which ratified Usada's decision to ban Armstrong for life and strip him of all his titles, said on Tuesday that unless Armstrong made a full confession under oath and told the anti-doping authorities all he knew there would be no chance of his ban being reduced. "While Wada encourages all athletes to come clean about any doping activities they have been involved with or know about, these details must be passed on to the relevant anti-doping authorities," said its director general, David Howman.
"Only when Mr Armstrong makes a full confession under oath – and tells the anti-doping authorities all he knows about doping activities – can any legal and proper process for him to seek any reopening or reconsideration of his lifetime ban commence."
Since Usada published its "reasoned decision" in October, ratified some weeks later by cycling's much criticised global governing body, the UCI, Armstrong has been deserted by a succession of high-profile supporters and sponsors, including Nike, and lost millions of pounds' worth of endorsements.
He has also stepped down from his position as chairman of Livestrong, the charity he established to help fellow sufferers after overcoming testicular cancer. Earlier this week, he apologised personally to staff.Attention is now likely to turn to whether Armstrong will implicate anyone else. Most of the cyclists involved have already confessed to doping and testified against him, but unanswered questions remain around the role of the UCI.
It has admitted accepting $125,000 (£78,000) in donations from Armstrong but has strenuously denied that they were linked to any attempt to cover up a failed drug test at the 2001 Tour of Switzerland, a claim made by witnesses in the Usada report.
It said on Tuesday that it would not comment until the interview had aired in full but that Armstrong should speak to the independent commission chaired by Sir Philip Otton that it has set up to look into the allegations if he had anything to add.
"The UCI notes the media speculation surrounding the interview and reports that he has finally come clean and admitted doping during his cycling career," said a UCI spokesman. "If these reports are true, we would strongly urge Lance Armstrong to testify to the Independent Commission established to investigate the allegations made against the UCI in the recent Usada reasoned decision on Lance Armstrong and the United States Postal Service (USPS) team."
Meanwhile, the US justice department is considering joining a federal whistleblower lawsuit filed in 2010 by Armstrong's former team-mate Floyd Landis to recover some of the $30.4m invested by US Postal in sponsoring his team.
The contract had a specific clause forbidding the use of performance-enhancing drugs. Coincidentally, the US justice department has until Thursday to decide whether to join the suit. The Sunday Times is also taking action against Armstrong in a bid to recover libel damages paid out when it accused him of doping and a string of other law suits could follow if he confesses.
http://m.guardian.co.uk/sport/2013/jan/15/lance-armstrong-admits-doping-winfrey
http://www.theage.com.au/sport/cycling/armstrong-lied-in-oprah-interview-usada-chief-20130126-2ddci.html
http://www.theage.com.au/sport/cycling/armstrong-lied-about-making-clean-return-says-wiggins-20130125-2dc5f.html